by David Morrison

Who would have thought that a wild crocodile from the Shire River would find its way to the Iris Africa ministry base in Bangula? Unbelievable, but it happened!
One day back in March while fishing at our pond with some of our Iris children, I was startled by a big splash when something that was beside me suddenly went for a swim. At the time, I just brushed it off as possibly being a monitor lizard which are common in this area. Two months later, one of our primary school teachers reported that he had spotted a crocodile warming in the sun on the banks of our pond. I dismissed his alleged sighting as absurd, knowing full well that it was highly unlikely that a crocodile could journey the distance of five kilometers across land to our little 'pond of Eden'. It wasn't until two more staff reported the same thing that I went to investigate the situation for myself.
With the crocodile within my sight, and pictures to prove it, I had to admit that there really was a crocodile living happily in our pond. I suspect that this four foot male took a wrong turn during February when the flooded Tangadzi River reached within 1,000 meters of our property. Now we faced a dilemma. How would I get this real and present danger out of our pond? The answer came quickly when I called our 'sweet' neighbor at Agricane.
It was a relief when the administrator at Kaombe sugarcane plantation responded with an offer to help. He understood the urgency of the matter and mobilized his team to come and capture our unwelcome guest. Promptly, the trap was set and within 24 hours the crocodile was secured.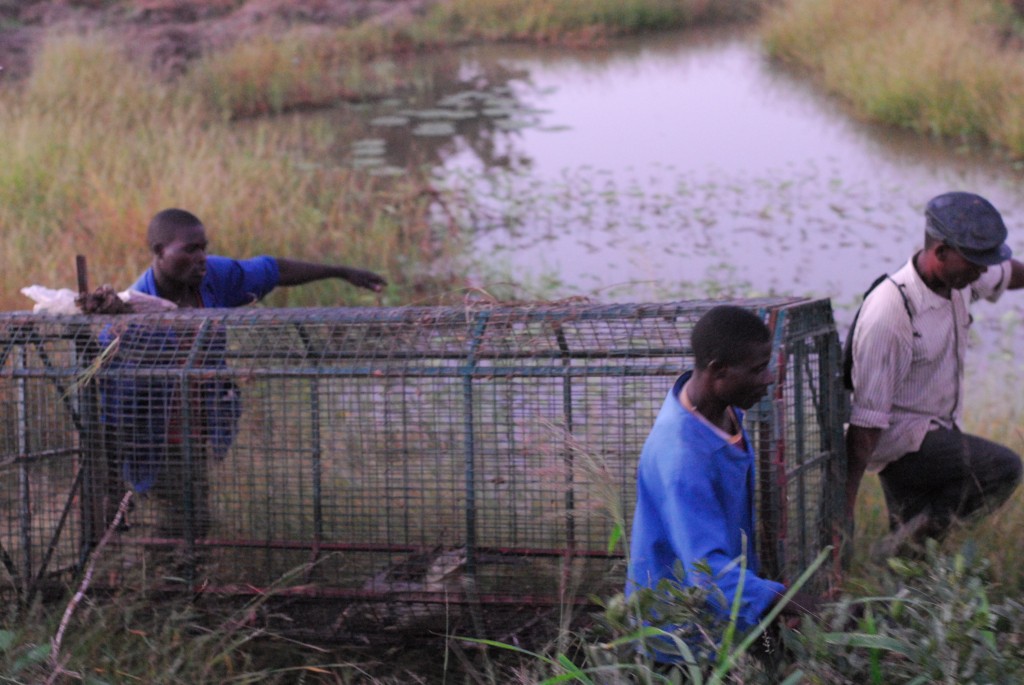 We are happy that our crocodile is now safely sheltered at Agricane's crocodile farm. Now, we can turn our attention to the large water python that also made his home at Iris. Stay tuned!