Iris Africa supports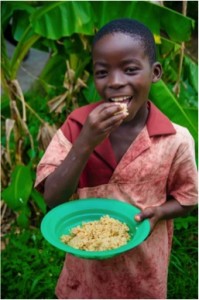 40 households in and around Bangula who have taken on the responsibility of caring for orphans.   For example, we provide food each month to children who have disabled or weak grandparents who are not able to work in a garden to support themselves. Too often, orphans are delivered into families that are already struggling to feed their own members. As a result these orphaned children often get left out or ignored due to the lack of resources in these poverty stricken homes.
In most of these cases, Iris has built a simple home or has asked the chief of the village to provide a home for these orphaned children and to find a suitable, trustworthy guardian.  Iris then supports the guardian as required, providing soap, school uniforms, medical care and house repairs from time to time.
Every month, faithful staff and missionaries from the base start out their journey with trucks full of rice-soy meals and hearts full of love. What a privilege to be able to deliver encouragement and food to those who need it most. We are always greeted with joy and laughter as children anticipate going to sleep with full bellies.